English abstract: Today Anna Magnani, great among the greatest performers, would turn 100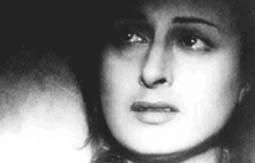 Me gustaría dedicarle un post más largo (cosa que haré un día de estos) pero no podía dejar pasar la ocasión de mencionar que hoy se celebra el centenario del nacimiento de la gran Annarella: Anna Magnani, actriz grande entre las grandes.
Tantos momentos de antología en la gran pantalla, como su desesperada carrera tras el camión en "Roma città aperta", su gesto a un conductor mientras va de paquete en la moto de su hijo en "Mamma Roma" (
"CORNUTOOOO!"
), su enérgica demanda de rock and roll en el patio de la cárcel en "Infierno en la ciudad"... tantos, que se hace difícil escoger...
...Aunque quizás hoy me quedaría con su ultima aparición en "Roma" como ella misma, tan eterna como la ciudad del Tíber, maternal y cansada:
"vai a dormire, Federico, vai a dormire"