Film A:
A young man wants to secure he can opt a government-promoted flat for his family. The only way he can do so is to follow his father-in-law steps as a civil servant: the trouble is, his father-in law is a State Executioner. The young man agrees, believing that there'll be little chance for him to actually do the work, but then he's appointed to execute a convict, by means
garrote vil
... He doesn't want to do it, yet he doesn't want to lose his flat, either. And, after all, the execution, which takes place in sunny Majorca, might be revoked, and the executioner-to-be might spend an enjoyable vacation in the island in the meantime.
Film B:
Grandpa is envious of a crippled friend of his: he's got one of those special little cars for disabled people, and he's got so much fun with other handicapped people with cars. Grandpa is not handicapped, but wants to join the gang, and he'll do whatever it takes to get his own little car... I said
whatever is takes
, and this is exactly what I mean!
Film C:
A young couple wants to get married, yet they don't have the means to get a home of their own: then it is suggested that the young man might marry a very old lady who lives on her own. The idea behind it is: the young man becoming a widower in short time, and then an appartment owner, and then both youngsters being able to marry and have a home. But the old lady has a stronger health than they expected...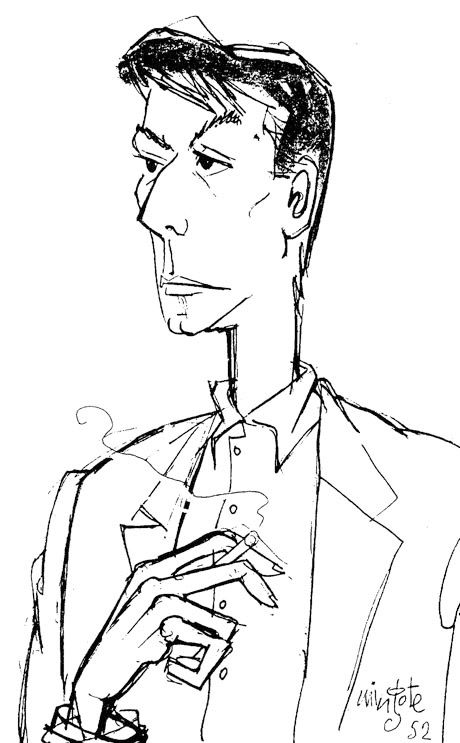 A young Rafael Azcona portrayed by Antonio Mingote
These are, in short, the plots of films like
Luis García Berlanga's
"El Verdugo"
, and
Marco Ferreri's
"El cochecito"
and
"El pisito", which
have something in common: all they were written by
Rafael Azcona
, who died last monday in Madrid. Azcona was one of the greatest film writers -if not the greatest- in Spain.
Azcona was born in Logroño (La Rioja, Spain) in 1926. In 1951, young Rafael went to Madrid in order to become a writer, though at first he worked as an accountant for a meager salary, while spending poetic evenings at the bohemian Café Varela (mainly, because, he said, it was a warm place, and poets could stay in a table for a whole evening without paying at all, being even regaled with a jug of water).
Azcona eventually started collaborating with the humour magazine
"La Codorniz"
, creating the character
El repelente niño Vicente
("little know-all Vicente"), a little boy whose attitude embodied (and therefore mocked) the Spanish establishment: Azcona so nailed the stereotype, that the expression is now embedded in Spanish phraseology.
Having relinquished his early poetic inclinations, he also started to write novels. His work as novelist, characterized by a satyrical streak, always amazed at the bizarreness of Spanish mores, include "Los muertos no se tocan, nene" (Loosely translated: "Kid, don't touch the corpse"), "El Pisito. Novela de amor e inquilinato" (L.S.: "The Little flat. A story of love and tenancy"), El Cochecito (L.S.: "The Little car") and "los Europeos" (darn pretty straight translation: "The Europeans").
He started writing for films, in his own words, because they were easier to write than novels. Easy or not, from his typewriter came some of the best scripts in the story of Spanish Cinema. Azcona worked quite a lot with directors Berlanga and Ferreri, which seemed perfect for Azcona's black humoured stories, with its witty and perplexed gaze at a burlesque Spain trapped between the middle ages and modernity. Azcona's scripts sometimes managed to dodge the strict Spanish censors of Franco by a narrow margin, tough on other occasions he and his directors were forced to change endings or scenes which the censors considered too immoral, blunt or godless... So Azcona, as many writers of his time, honed his talent to best avoid the merciless censor's scissors.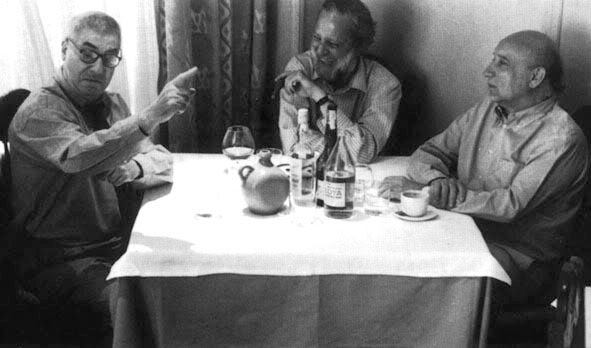 From the cover of "Memorias de Sobremesa" (El Pais-Aguilar, 1998) Rafael Azcona (left) chats with journalist Ángel S. Harguindey (center) and writer Manuel Vicent (right)
A shy, unassuming citizen, Azcona never liked to be under the spot, to the point that he was known as the "invisible man" of Spanish cinema. Only during the last decade of his life, he would agree to eventual interviews (more often than not when he found a journalist to be good company for friendly, intelligent chat). This thankfully was coincident with reprints of some of his novels and scripts.
Non Spanish filmgoers might be familiar with the film
"Belle Epoque"
, directed by Fernando Trueba, which won the Oscar for Best Foreign Language Film in 1994, a wistful comedy set in Republican Spain prior to the Civil War. This film was starred by the great -and also recently deceased-
Fernando Fernán Gómez
, who would again play an important role in another recent film written by Azcona (after stories by novelist Manuel Rivas)
"La lengua de las mariposas"
(Butterfly Tongues, 1999), about a child's growing pains in Galicia (North-West Spain) as the Civil War is about to start. Fernán Gómez plays a teacher who becomes an inspiring mentor to the young boy, in a story somewhat reminiscent -well, at least to me- of Jean Renoir's
"This Land is Mine"
(although Renoir's film finishes in triumph, whereas Tonge' has a bitter ending). Fernán Gomez and Azcona had met before in Juan Estelrich's weird
"El Anacoreta"
a metaphorical comedy about a man who chooses to live as an anchorist in a bathroom.
An inland man, Azcona remembered the first time he visited the -still unspoiled by mass tourism- island of Ibiza: he would tell how he got there with his typewriter, and he was so lured by the sun and the sea he saw from the window, that he forgot about writing for the rest of his stay. The idle typewriter was impaired by the salt in the sea breeze.
While Azcona wasn't the type of man to believe in life beyond death, I'd like to picture him now in a Elysium of film writers, typing new stories with a salty underwood.