English Abstract:
English Abstract: a lovely umbrella-chutist musume... Just one of the many highlights at the Ukiyo-e exhibition in Barcelona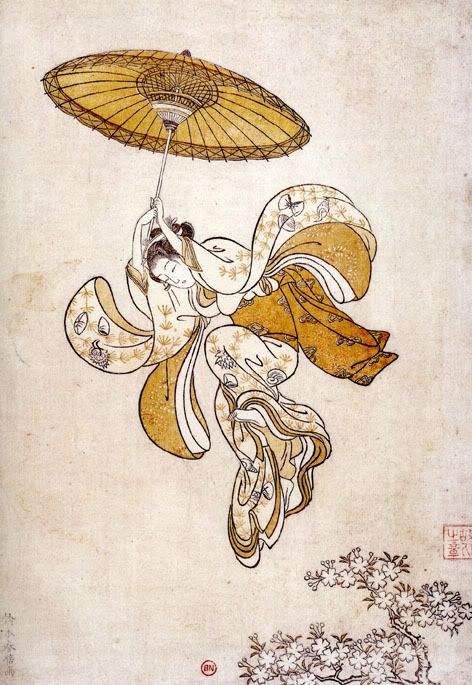 Una corajuda belleza japonesa salta al vacio desde la balconada del templo Kiyomizu. Según el texto que acompaña la imagen, tan temerario acto de paraguaidismo era para comprobar si los dioses son favorables a sus amores, en cuyo caso la muchacha llegaría al suelo sin un rasguño.
No se si la ilustración es alegórica, porque mi hermano, que tuvo la ocasión de visitar el templo, dice que la altura desde la balconada al suelo es considerable y cree que, de estar basada en un hecho real, la chica hubiera acabado hecha un cisco si los dioses tenían el día tonto.
En todo caso, sea real o una excusa alegórica pare realizar un bello dibujo cabe admirar su belleza y delicadeza, fruto de una total comunión entre artista, grabador y editor, todos ellos llevando a cabo su papel con la más alta competencia.
Esta obra se puede contemplar
en la muy recomendable exposición "Ukiyo-e, imatges d'un món efímer"
en la Pedrera de barcelona. La entrada es gratuita