Spoiler warning
: Review of "Daredevil" Vol. 2 #100. Some plot details are dealt with here, so beware if you haven't read this issue and the previous ones.
Nota a los seguidores de la edición en Castellano de Panini: para los que sepais inglés, recordad que actualmente hay un año de diferencia entre la edición USA y la española de Daredevil, eso quiere decir que en este post hay spoileracos a punta pala. Avisados estais.
In previous sagas, writer Ed Brubaker has provided us with a chapter which, only apparently, seemed to take a rest from the ongoing plot, like #88 and #94, which focused on Foggy and Milla, respectively... However, and in spite of some readers' complaints about the lack of action, these issues were smartly introducing the events to come, while giving a bit of useful spotlight to someone meant to have relevance in the following story.
Now DD#100 focuses in Matt, and I must say that I am impressed at how well the introspection and the explosive action of this story combine, and this is also a fitting celebration of volume 2's hundredth issue, which works fine as a recapitulation on all that's been going before in Matt's life: it is indeed like a
"come on in, stranger "
invitation to all-new readers, while giving a knowlegeable wink to old patrons. In the art department, alongside with Michael Lark (and Stephano Gaudiano) we find gorgeous pages by such "Daredevil" legendary artists as John Romita Sr. (with Al Milgrom), Gene Colan, Bill Sienkiewicz and Alex Maalev, plus the talented cover artists Marko Djurjevic and Lee Bermejo doing some spectacular interior art.
This "guest artist" policy for a special issue is by no means new, and certainly not in "Daredevil", where the following examples from the recent story of the series could be cited :
1)
In Vol. 1 #375, within a saga written by Joe Kelly in which Daredevil's enemy was also Mr. Fear, we got Cary Nord, Mark Lipka, John Paul Leon, Tom Lyle, Robert Jones, Bryan Denham, Chris Carlson, Rick Leonardi and Scott Hanna along with regular penciller Ariel Olivetti. The contributors changed with every "scene", but the final result seemed a bit patchy (at least to me), just as if every artist had been given his slice of cake with no further indication, giving almost the impression that their succession was due to the fact that the preceding artist had failed in meeting the deadline.
2)
in Vol. 2 #50, written by Brian Bendis, a similarly long list of guests drew the climactic confrontation between Daredevil and the Kingpin. However, the contributions were more like a series of pin-ups of DD beating Fisk and
vice versa
, than a narrative device. There we had Gene Colan & Dave Gutierrez, Lee Weeks & Tom Palmer, John Romita Sr. & Al Milgrom, Joe Quesada & Danny Miki, Mike Avon Oeming and David Mack along with regular artist Alex Maalev.
3)
And then we had Vol. 2 #65, written by Brian Bendis, celebrating the 40th anniversary of the series with Michael Golden, Greg Horn, P. Craig Russell, Phil Hester & Ande Parks, Chris Bachalo & Tim Towsend, along with regular artist Alex Maalev. In this case, the contributions seemed to have a clearer objective, meant as chapters: every artist undertook a scene where Murdock met individually some of his superheroic acquaintances. This issue also featured pin-up illustrations by Jae Lee, david Finch, and Frank Quitely.
...So, what's the guest artist deal in this issue? well, as the story starts, we have Matt being apprehended by Mr. Fear and the Enforcers, who knock him out and dose him with fear gas. After a helpless Matt is unceremoniously ejected bt the Ox, we see, in the art by Lark and Gaudiano, what is actually happening while Matt wanders the streets under the effects of the drug, and then we have intersected dream/hallucinatory scenes by the guest artists, in which we see what's going on in Matt's mind. In his delirium Matt confronts his worst enemies, debates with old lovers and finally has a son-to-father talk with "Battling" Jack Murdock. From each of these meetings we learn that Matt's own responses to life have as much importance in what happens to him as any external circumstance. Hopefully, Matt is going to come wiser from these mirages. He certainly acts a bit more clever at the end of the issue.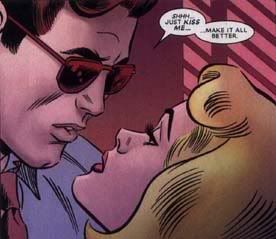 John Romita Sr. brings back Karen Page for a fleeting moment of sweetness
While all this goes within Matt's mind, he scares the hell out of passers-by, beats some small time crooks and a couple of cops, too. I would complain about the last one if it weren't because in the past issues, cops
have handcuffed Matt when his wife's life was in jeopardy
, cops have
accused him of not acting
against the crimes that were happening
while Matt was arrested by their own colleagues
, and finally, they attempted to arrest Daredevil more concerned about a promotion than about the law being held or the right thing done... I say, while Matt wouldn't have harmed them at all had he been in his right mind, I bet they had it coming!
Meanwhile... Milla is on the same tight spot she was at the end of last issue. Arrested by the police, Foggy represents her and advises her not to say anything if interrogated. You know, I had feared, from previous events, that Foggy was to fall like a sap under the spell of Lily's pheromones, but even if he's only human -you know-, he is able to resist them enough to focus in the Milla emergency, and try to locate Matt. (By the way, we learn that Nelson has the keys of Matt's apartment: Good for Matt's partner to have a set of spare keys as he certainly cannot come in through the windows in DD fashion, LOL)
The issue culminates with some explosive events and a shocking reveal for Matt. and leaves us in eager wait about how he story will follow: has Dakota found some more information of relevance? Will Becky bring further light on her former teacher, and the death of his old school pal, Gus? Will Milla regain her wits? What there is to learn about Milla's psychiatrist? How does Lily cope with being bluntly told to
"shut up"
? All I can say is, Nelson & Murdock may be facing the toughest case im their careers.
Upon last issue's reveal, some readers complained about the obscurity of the villain, and here I want to make a case for Brubaker's bringing back Mr. Fear. DD hasn't a wide, strong rogue gallery. I just love Kingpin and Bullseye, but if DD's enemies don't move beyond that tiny circle, even heavies as mighty as them are in danger of losing their impact by over-use.
While writing Daredevil, An Nocenti boldly took many steps ahead, and, among them, she created a new gallery of enemies for Murdock, which I think was a good idea. Brubaker has opted for the equally interesting option of bringing back to the light old forgotten foes of ol' Hornhead, which is as good an option as Nocenti's. In both cases, instead of playing safe, both authors have opted for a risky gamble, which I consider ultimately successful... Which leads to another comment I've read elsewhere: that the previous five-issue "To the Devil His Due" saga was frustrating because it reached its close with a cliffhanger, but then, so did "The Devil In Cell-Block D" which ended in a surprising revelation which throughly changed the readers' expectation of what was to come in future issues. In my humble opinion, "To the Devil His Due" was more much than a Gladiator being a red herring, it was the mighty build-up towards the unexpected events which made us leap in the chair as we were reading them. Ever since "Devil Takes a ride" we've been getting hints at Mr. Fear's return, though of course his identity wasn't to be suspected until the Ox's brief appearance pointed in his direction, and I am of the opinion that at the end of the saga no-one will take Fear lightly or diss him because of being a long-forgotten baddie.
Along with the regular story (longer than average) we have the reprints of Vol. 1 classic issues 90 and 91, by Gerry Conway and Gene Colan, where we see Daredevil's first confrontation with the man under Mr. Fear's mask, during the hero's stay in San Francisco alonf with the Black Widow. Since I had these old issues, my first reaction (honest) was "Aaw, nerts! I have them already!" but then, most people don't, and the new publication of this material is more effective as a recapitulation than would have been a hasty resume of them inserted in the regular story... So, in the end, an adequate complement.
A further nice extras are a script-to-finish sample pages, plus some original pencils/early sketches for this issue by different artists.