(Update 18 de Enero: 3 links añadidos)
English Abstract:
Not even the webcrawler himself is happy about the OMD conundrum
Que conste que no sólo lo digo yo, mirad que opina el mismísimo trepamuros: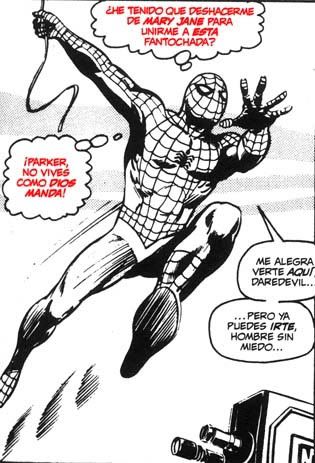 Declaraciones exclusivas en Daredevil, Vol. 1 nº 77. Cronica por Gerry Conway y Cene Colan
Pues eso.
¡Pasen y vean!
De nuevo, unos cuantos links selectos sobre el tema:
- David Willis se pregunta si realmente
Spiderman ama a Mary Jane
.
- Chip Zdarsky nos revela la exclusiva: la culpa no es de Quesada, en realidad, quién está detras de todo el fregao es
¡Ozimandias!
(ya sabeis, el hombre más listo del mundo).
- El primer ciudadano marciano de la blogosfera opina sobre
"Brand New... Gay?"
.
- Keith Giffen reflexiona sobre
lo que puede ir mal en el matrimonio de un superheroe"
.
- "Brand New Art" Rich Johnston y Michael Netzer nos presentan a
la competencia de Nelson & Murdock
.
- El autor Erik Larsen
da su opinión sobre el asunto
. No es un partidario del matrimonio, pero cree que las cosas podrían haberse hecho de otra manera (y con él, unos cuantos/as)