Many Daredevil fans around here surely know that Marvel hero Matt Murdock wasn't the first individual to be called "Daredevil" in the comics medium.
His best known predecessor is Bart Hill, the 1940s
"Daredevil", published by Lev Gleason Publications
and recently re-vamped by Dynamite entertainment as "The Death-Defying Devil". This Daredevil, with his spiked belt and his boomerang weapons might seem, at first sight, quite different from old horn-nead Murdock whom we all know and love... but let's see what Wikipedia says about him:
"As a child, Bart Hill had been rendered mute by the shock of seeing his father murdered and himself being branded with a hot iron. Orphaned, he grew up to become a boomerang marksman, in homage to the boomerang-shaped scar left on his chest. Like Batman, introduced a year earlier, he took up a costume to wage vigilante vengeance"
So, you see, the original Daredevil not only lost his father, which turned him into a vigilante, but also had a disability. This echoes the later Daredevil we know.
But there's another pre-Murdock Daredevil you might not be aware of. Ladies and gentlemen, allow me to introduce to you...

...Tubby Tompkins!!
Please notice the similarities with Matt Murdock:
Red-head? Check
A lady killer? Check
Also, Tompkins greatest nemesis is a formidable girl who dresses in red, and seems to have with him an on-off, love-hate relationship. Interesting, eh?
And the similarities don't end here, see:
Stubborn crime-fighter? Check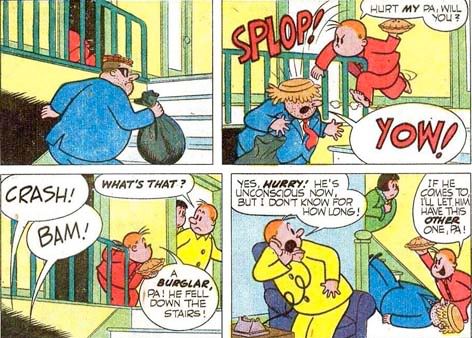 (notice, by the way, his red pajamas)
Is he a man without fear? Yep

Enhanced senses? Check
(Well, he's got enhanced sense of smell and taste, this we can tell for certain)
All right, now you'll tell me that Tubby has no radar sense, which allows Murdock to fight his enemies in the dark... Well, this is true, but never underestimate Tubby's resourcefulness.
...Did I mention already that he's got a very Murdock-esque penchant for ladies?